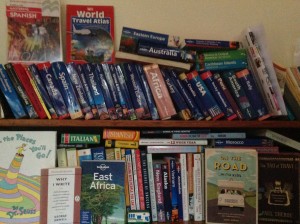 You may glean from the photo of the bookshelf above my desk that that I am a bit of a Lonely Planet fan. Having romped my way across over 85 countries, it is my primary travel guide of choice. But even so, I have found other great, unusual and possibly confronting uses for a Lonely Planet guide than just reading it; here is my Top five:
#5. A Lonely Planet Pillow.
When forced to spend time in a grotty airport in Tel Aviv, Athens or Nairobi, there is nothing like kipping down on the floor with a multi-country brick-sized guide supporting your head. I recommend the meaty guides of Africa, South America, or for those who like higher head-rests, the double hardcover volumes of the Caribbean and Mexico.
#4. A Lonely Planet Anti-snoring Device
Hostels may be cheap but it is inevitable that when you are wedged in a bunk room with ten other travellers, half of them pissed, there is sure to be a snorer – one that cannot be stopped by polite intervention. After yelling and throwing everything possible at the offender, like balled-up tourist brochures, I suggest tossing a single-city LP manual such as Paris or Venice into the person's midriff. These smaller volumes are perfect for their ease of flight and more accurate targeting, but are still sturdy enough to stop the perpetrator in his volcanic wake.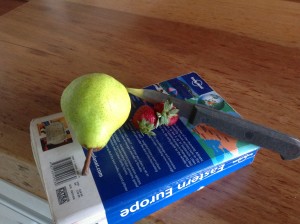 #3 A Lonely Planet Cutting and Rolling Board and Spares
Many a ham and tomato sandwich has been made on the run, using the convenient flat surface of a LP guide. I suggest the back cover, otherwise the remnant knife lines will detract from the pretty cover pictures. But it wasn't till I travelled with a dedicated self-rolling smoker, a roller of all substances, that I truly appreciated the need for flat preparation surfaces. This fellow would set up in a wind-proof location and meticulously dice all ingredients required for his rollie, on top of his LP book. When he ran out of rollie paper, which he did regularly because of repeated bouts of forgetfulness, he would open a guide, tear out a blank rear page, and declare 'Spares!' As I travelled with him, his guide books got thinner.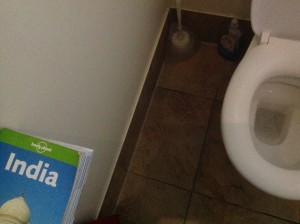 #2. The Lonely Planet Emergency Toilet Paper.
Well-tread travellers know it is essential to carry spare bum-wipes everywhere. But sometimes the forgetful mind can leave you sitting in a sweaty Indian toilet, regretting what a few moments earlier had been declared as the world's best curry. When the writer found himself in this scenario, the only paper he had nearby was the Lonely Planet guide. Pages had to be torn out, yes, a literary sin up there with book burning, but I figured the Wheeler's wouldn't mind. Important decisions were made on the run (literally); the index and the boring but essential admin bits had to stay. Clearly the cardboard cover lacked fluffiness. And so began a hasty search for cities the traveller was most unlikely to visit. Out came their pages, used as God did not intend them. And of course they were places the traveller would eventually visit. That really gave him the squirts.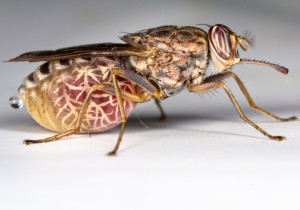 #1. The Lonely Planet Life-saving Device
An edited version of the 1992 LP Africa guide states that Trypanosomiasis (Sleeping Sickness) is transmitted by the tsetse fly. These insects are only found south of the Sahara but are responsible for the absence of horses and cattle in large tracts of Central Africa. I was south of the Sahara in an old four wheel drive, a far smaller target than a cow, when monster flies took over our windowless vehicle. The book goes on: 'The tsetse is about twice the size of the normal house fly. If infected, its bite and the disease can cause fevers, abscesses, gland inflammation and mental and physical lethargy.'
This particular guide book now rests on my shelf with a busted seam and pages hanging out of it like sailors clinging to a rock-smashed ship. This is because I spent a sunny Tanzanian afternoon pounding the book with all my force into the dash and windscreen of a jeep, killing over a hundred tsetse flies. The only problem was that after this stress and exertion, I was so mentally and physically lethargic for days, I was certain I had the sleeping sickness.
For recent travels, most of my literature has gone digital. But if I used eBooks for the above uses, I would have a sore neck, smashed screens, knife-slashed surfaces, and I dread to picture how I would use a kindle or smartphone for toilet paper. Let's see an App do that. Nope, for me and Lonely Planet, it's paperback all the way. I'll even read them.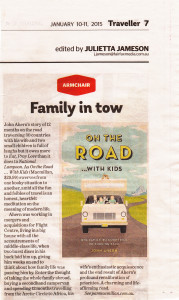 By John Ahern – Author of 'On The Road…With Kids. One Family. 30 Countries. No Turning Back.'
John's travel memoir has been shortlisted for The Queensland Book of the Year 2015. Readers can vote for it at this link:     http://www.qldliteraryawards.org.au/about/peoples-choice/voting-form
For more information, go to http://www.johnahern.co or @johnahernoz
About John: John has travelled through over 85 countries. In his more curious moments he has been shot at, poisoned, tear-gassed, robbed at gunpoint and locked up in an African jail. He has also stowed away in a Colombian cargo plane, ridden across countries on the back of trucks and the roofs of buses, flown in an ultralight over the Zambezi, and been a passenger in two train derailments. He now lives with his wife and two children in the comparative safety of the Currumbin Valley on Australia's Gold Coast. He considers it their base camp for new adventures.