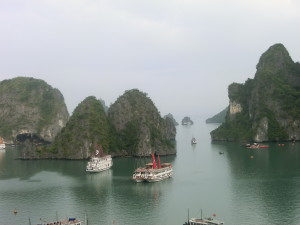 In preparing to go to Vietnam with my family, I decided that 'planning', normally the anathema to my independent travelling ethos, would have to be embraced. Prior to our 30 day sojourn in January 2015, I did more trip research than I have ever done. Once on the road, my crew of four travelled from south to north, from Ho Chi Minh City to Hanoi, with stops in the Mekong Delta, Hoi An, Sapa and the world-renowned Halong Bay. We were on a tight budget to make this trip happen. I booked internal flights direct with the local airlines, direct booked hotels and travelled for under $100 a day for the family. I could smash down a hundred tips and hacks from many great sources but there were a few I simply did not discover until we were there. Here are 5 great tips that were not easily discovered.
Vietnam Tip #1. Shortcuts and Savings on Visa and Entry Arrival
How to get the 'Visa on arrival' letter for free and save $USD15-$25 per person. If you are pre-booking a mid-range Halong Bay tour or a number of consecutive nights at a reasonable hotel, many offer to provide the required 'Visa on Arrival' form for free. Check this out when pre-booking.
Review the latest information on the 'Visa on Arrival.' In January 2015, the Vietnamese Government was mooting to cease this visa requirement for certain nationalities, taking the cost away as an impediment to tourism. Depending on your country of citizenship, you may now be exempt.
Save serious check-in time. In addition to the 'visa on arrival' form, there is also an entry form you must fill out on arrival; with attached passport photos (don't forget these). The normal process is to line up for the arrival form, get it and fill it in, then line up again to submit it with your 'Visa on Arrival' letter. Each line-up can take over 45 minutes, so halve the time and arrive with this form already filled in. For me, when travelling with kids, every airport minute saved is a gift from the Gods. The direct link to this form  is http://www.vietnam-visa.org/upload/doc/form-on-arrival.pdf
Take only crisp new US dollars. $USD45 cash is required for the arrival entry fee. Certain pre-booked tour companies, particularly for Halong Bay, also want part payment in USD cash. But beware, older notes will not be accepted. When you buy USD cash from your home bank, specify that the series on the USD are all post-2000 series. Otherwise they won't be accepted in Vietnam and you will get stuck with delays and cost at immigration.
Passport. Please do not fall asleep as you read this dull but vital administration tip: Ensure your passport has more than six months before expiry.
Vietnam Tip #2. Get Hundreds of Dollars in Free Hotel Extras. Free airport transfers ($20USD each way), late check outs/early check-ins (save one night's room rate) and extra beds (ave $10 USD each). Save heaps by negotiating these extras direct with your hotel by email, rather than booking through their or other websites. Booking engines don't allow for this level of flexibility. Vietnam may be a socialist country but the entrepreneurial bent of negotiation is universal and hotels will do deals. If you book for 3 nights or more at reasonable hotels, particularly in Hanoi, some or all of these added features may be available. Ensure you keep a detailed copy of any extra arrangements that are outside the norm, so there is no problem at the time. Over our 30 days in the country, I negotiated over $700 in extras, just by asking.
Vietnam Tip #3. Ask For The Window! Many hotels in Vietnam are tall and narrow and by necessity, have a lot of windowless rooms. Request and confirm in writing that your room has a window if you don't want to feel like you are staying in a bunker. I always find the 'room tips' feature of TripAdvisor to be a fantastic tool. I recently presented my book and travel tips to 400 people at a travel expo in Australia. Almost everyone knew of TripAdvisor but I was surprised to discover that less than 5% of the attendees knew of the room tips feature (I have to get out more often). Check it out, discover and specify the best rooms at your desired hotel. That way you will make sure you don't get the room with the disco thumping below it.
Vietnam Tip #4. Halong Bay. Do the 3 days 2 nights! It's at least a four hour bus trip each way from Hanoi to Halong Bay, boarding the boat at 1 pm and departing the following morning about 11 am. That's a big chunk out of the highly-popular popular 2 day 1 night trip. Do yourself a favour and splurge on the extra day. After all, you've come this far to immerse in one of the most wondrous scenes on the planet, so chill out and give it the time it deserves. In fact, splurge a little more and go on a nice boat, not one of the rock-bottom cheapies that are renowned for rats, parties, and going to the rock-bottom. FYI, we went on Glory Cruises at $USD800 for four people, two cabins, two nights. All was good, but there are plenty of options at all levels of decadence.
Vietnam Tip #5. Save On Internal Flights. Booking direct with the local translated websites of airlines such as Vietnam Airlines and Vietjet Air gave us access to $35 internal flights. The same flights were far more expensive through our home-based travel agencies and other renowned flight aggregator sites. Note that unless you have an international no-transaction-fee credit card (like the 28 degrees MasterCard or the Bank Americard Travel Rewards Card, to name just two), you will pay the foreign transaction fee, the average fee being 3%. The flight cost savings are likely to far outweigh the fee anyway.
I hope these few tips add to your Vietnam trip!
John and family travelled for 30 days through Vietnam in January 2015.